| | | |
| --- | --- | --- |
| | Member Announcement | |
| | | |
| | | |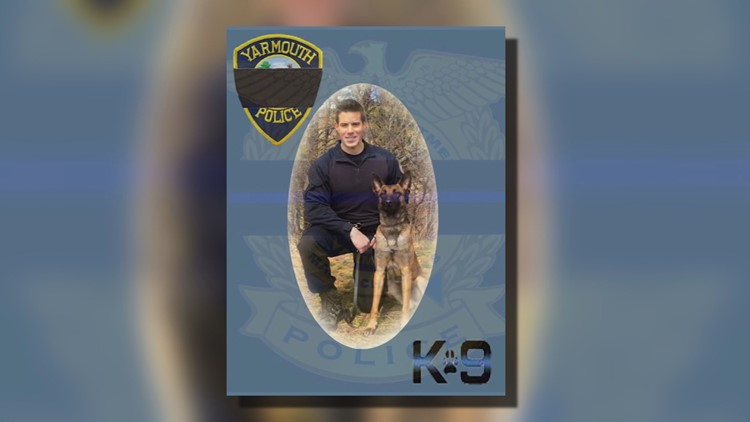 FUNERAL ARRANGEMENTS FOR FALLEN OFFICER SET, K9 RECOVERING
YARMOUTH, Massachusetts (NBC Boston) -- Funeral arrangements have been released for Yarmouth officer Sean Gannon, who was shot and killed Thursday while attempting to serve a warrant.
K9 Officer Nero was also shot and has recovered, according to the Yarmouth Police Department.
?Follow the link below;
Although there is no official group, we have received calls from a few of our members in regards to the trip to Massachusetts for Officer Sean Gannon's funeral. In trying to coordinate those who have an interest, any MAP member or Maine LEO who is interested in putting together a caravan down as a Maine contingent, we suggest that all meet at Cabela's in Scarborough at 0430 AM to huddle up for the trip down. Cabelas is a great spot for all as it is right off the turnpike and allows for quick muster and travel south. Those south of Scarborough can certainly join in as the procession passes. I have been in contact with Cabela's and they are pleased to help in the effort by expecting officers to use their parking area.
Please pass this on to anyone you think may be interested.
There are two important things to consider;
1) You will be contending with heavy traffic headed to the funeral in addition to regular Boston rush hour. Although there is an alternative of going 495, there will also be morning traffic there as well as on Rt. 128. Leaving early gives you the best chance to get to the Cape in time for the muster at Dennis Yarmouth HS.
2) Also be advised that the Sagamore Bridge is now under construction and down to one lane on each side. Although there is an alternative route over the Bourne bridge know that it will be heavily used as well. Another reason to hit the road early.
Again, this is a suggestion as we have received several requests of interest in going down as a group which I think is a great thing. If you have any questions you can contact me at 207-767-2558. Good luck, safe travels and thank you for representing Maine for our fallen.
For those interested; The Commodore Inn in West Harwich not far from the services for Officer Gannon has 6 to 8 room they will open for police travelling down 508-432-1180. The owners are Blue, having sons that are on Boston PD.
Stay safe,
Paul Gaspar
Kimmerly Maxfield-Fearon Obituary
Our thoughts and sympathy are with our brothers and sisters in our Falmouth and Gorham local units this morning as we lay to rest an extended member of our law enforcement family.
Kimmerly Maxfield-Fearon, a trusted and beloved part of the Falmouth and Gorham Police Departments passed away unexpectedly on March 29th. She spent her life in service to not only her communities, but also to the men and women of Maine Law Enforcement.
She also held a special place in the MAP family as the wife of Gorham police officer and MAP member Larry Fearon. Between the two of them, their service and impact in our world is immeasurable and the loss irreplaceable.
On behalf of all MAP's members and retirees, we are praying for Larry and Kim's family during this tragic time. As part of our family, you will never walk alone. In lieu of flowers, the family has asked for donations to be made to the American Lung Association at;
https://secure3.convio.net/ala/site/Donation2…
Stay strong and eternal peace for Kimmerly and you all. Stay Safe.
Special Announcements

2018 MAP National Law Enforcement Memorial Trip Announcement

PLEASE POST AND ALERT YOUR MEMBERS

April 5th, 2018

This year, the annual MAP sponsored trip to Washington DC for the National Law Enforcement Officers Memorial will be May 12th through the 15th, 2018. MAP is again helping to defray the cost of the hotel accommodations for our members as approved by the board at its March 28th meeting.

Any MAP Member who is interested in attending this year's memorial events MUST provide a $100.00 deposit no later than May 4th, 2018 to MAP Executive Director Paul Gaspar at the MAP Office. MAP has reserved hotel rooms for up to 16 people and member availability is on a first come, first served basis. The MAP subsidy covers a portion of the cost of the hotel and any costs above the subsidy for the hotel rooms will be spread out among the members attending. In the event that we have a large number of members interested in the trip, additional rooms may be purchased – if available. This will possibly result in a higher per member cost above the original per member reservation fee of $100.00 as hotel rooms generally run $300.00 - $400.00 per night. Depending on how many people go there may be an additional per member cost to cover the remaining balance of the hotel rooms not covered by the MAP subsidy.

The subsidy does not cover airfare, meals or local transportation and it is suggested that members use online services such as Expedia to find flights. It is suggested to book far in advance to ensure your own travel.

We are expecting a higher than normal interest in this year's trip, so please plan your interest accordingly. After May 4th, if there are still spaces available, those vacancies will be opened to MAP retiree members first, and then to any interested individual outside of MAP. PLEASE ONLY TAKE A SPACE IF YOU ARE COMMITTED TO GOING. IF YOUR RESERVATION FEE IS NOT RECEIVED BY THE MAY 4th DEADLINE, YOU WILL FORFEIT YOUR SPACE; NO EXCEPTIONS.

Bear in mind, the purpose of MAP sponsoring this trip is to honor and remember those who have made the ultimate sacrifice in defending the Thin Blue Line. All participants utilizing MAP's subsidy will be expected to attend the Candlelight Vigil/Group Photo held during our stay in DC during memorial week. There are many opportunities to socialize, but don't forget the reason for this trip. Those who do not attend the candlelight vigil will be asked to reimburse MAP for their stay.

If you would like to know more about National Police Memorial Week, you can visit the National Law Enforcement Officers Memorial Fund website at:

Only those members that we have received deposits from by May 4th will be secured a space.

Deposits can be sent to (Include your name, MAP Department and Email-Checks should be made payable to: Maine Association of Police);

Maine Association of Police

ATTN: LEOMF 2017

PO Box 2263

South Portland, ME 04116

For more information, contact Paul Gaspar at @ 767-2558, or at maped75@gmail.com.
| | | |
| --- | --- | --- |
| | Selected PSA | |
| | | |
Listen to MAP Friends and Supporters Turquoise Willie Honor First Responders
"Over the last several years we have spent time traveling around the country performing from coast to coast. During our time we have gotten to know many first responders and have to become quite close. Thanks to these friendships we have been given a glimpse into their lives and the sacrifices they make every day without question. There have been several tribute songs written throughout the years, but we wanted to take their stories and connect them into a piece of work that acts almost as a mission statement to convey the pride and camaraderie that exists in this international fraternity."
TO ALL THE MEN AND WOMEN WHO DO THE JOB... THANK YOU!
TURQUOISE WILLIE
| | | |
| --- | --- | --- |
| | Blog Topics | |
| | | |
| | | |
| | | |
| --- | --- | --- |
| | Officer.com | |
| | Connection Failure: This usually happens when the news feed URL is entered incorrectly. | |
| | | |
UnionActive Police Newswire