Special Announcement

This meeting of the Judiciary is taking place NOW, and will include a public hearing to act on recommendations of the Attorney General on considering/implementing data collection of law enforcement interactions and racial profiling. Although it is currently a concept draft, it is purposely written to allow its approval and enactment of these recommendations.

It should not go unnoticed that the relevant documents were not released until late yesterday for TODAY's hearing; notice of the hearing was sent at 4:50 pm and the ability to sign up to "testify" was to be requested by 5 pm.

It is also clear, that although public comment can be made via Zoom, the staunchest advocates for sweeping changes to Maine LEO's are taking advantage of the pandemic to limit or eliminate any in person interaction or public debate. This has been the direction of both the Criminal Justice and Public Safety, as well as the Judiciary Committees and have gone well past just the issue of data collection.

If you're not involving yourselves in the conversation, you are allowing it to happen. We will be posting the link to the hearing at 11 this morning as well as the documents. You will also notice the not ONE organization representing the interest of line officers were even asked to offer any input into this process. As a reminder, MAP, and it's representatives who were the only LE reps to speak out against a Statewide Civilian Review Board for OIS's we're labeled racist for using the term "Kangaroo Court" by Portland Representative Rachel Talbot Ross who is a prominent and vocal member of the Judiciary Committee. Representative Talbot Ross, along with Representatives Jeffery Evangelos and Thomas Harnett, engage in this effort on a daily and unyielding basis under these circumstances with impunity.

We encourage all Maine LEOs to watch, get involved and contact their representatives to have your voice heard. Stay safe. -PG

---

Are the police racist? Do they disproportionately shoot African-Americans? Are incidents in places like Ferguson and Baltimore evidence of systemic discrimination? Heather Mac Donald, a scholar at the Manhattan Institute, explains.

---

We would like to take the opportunity to express our pride, concern and relief at the incredible and professional response by Maine Law Enforcement and public safety dispatchers throughout our state, including Bangor and Portland during contentious protests last night and into this morning. The professionalism and restraint in the face of sometimes withering verbal, physical and destructive behavior is indicative of the caliber of the men and women who serve as LEO's in MAINE. Along with our member units, we would also like to recognize our Sheriff's Departments as well as the Maine State Police, who joined to help many cities and towns; and most importantly-each other.

To our fellow citizens whose only intent was to stand up and peacefully have your voices and concerns heard; we also THANK YOU. We are proud to serve our citizens and it is important that you know that we and our families share your anger and disgust for the actions of any in our ranks that does not embrace the ethics and professionalism we are asked to uphold.

In your attempt at a peaceful dialogue you show respect not only for the countless good officers through this state and country, but our families who carry the concern on a daily basis, that their loved ones will not return from their shift. You also show that even in the tempest of misinformation and rhetoric, you will not be deterred from civil thought and discourse which we fight to protect everyday.

To those who's only intent was to create animosity, cause damage your own community and openly accost and threaten officers and their families; YOU only serve to widen the chasm between our police and communities. Even though many have seen fit to post their uninformed rhetoric, notice that we have not silenced you or removed your posts. We do this as it's a protection of our constitution, but more importantly you help us by exhibiting the same bias and institutional "racism" towards ALL law enforcement officers with the same brush of ignorance that you say is used by law enforcement in dealing with individuals based on their race, creed, nationality or orientation. We will not debate anyone who's sole intent is to provide only one sided, zero sum solutions to a larger and much more complicated issue.

To all those in the Maine Community who have taken the time to post messages of understanding and support, we thank you and want you to know that we are never as proud as we are now to serve the incredible community that is Maine.

To our members and our fellow LEO's throughout Maine and the United States; we hope for your safety and that of your families and loved ones. Each day is a reason to be proud in serving shoulder to shoulder together during this test of our metal; the largest test in decades.

The article below is spot on and we could not improve on it and is worth the read for all.

Stay safe and watch out for each other!

Fraternally,

Paul Gaspar; MAP Executive Director

---

The Maine Chiefs, Maine Sheriff's, and maine Department of Public Safety have put together a joint informational docuemnt outlining the many how Maine has, and continues to outpace the national effort to address the challenges in addressing police, public and race relations. You can read the report

HERE

---

Maine Warmline for First Responders and Healthcare Workers

---

---

Free Peer to Peer Support App from the All Clear Foundation

We know First Responder wellbeing is important to you, so we want to be sure you are aware of ResponderRel8 – the peer-to-peer app for First Responders that enables them to connect, commiserate and celebrate anonymously (if they choose).

As you know, the complexities and stressors of response work are higher than ever due to the COVID-19 pandemic so, thanks to generous donations from All Clear Foundation's supporters, we're currently providing subscription-free access to ResponderRel8. First Responders can share information, stressors and experiences anonymously with their colleagues – without fear, stigma or politics getting in the way.

First Responders can access the app directly and chat with peers who have "been there, done that" – no association or organizational commitments required. It's great for rural and volunteer responders who have very little access to resources as well as those in metro areas where it can complement in-person resources.

---

---

Cops were murdered after Massachusetts 'bail reform'. Maine is about to pass its own.


https://www.lawenforcementtoday.com/cops-were-murdered-after-massachusetts-bail-reform/

Special Announcement from the MAP Board of Directors;

Given the most recent developments, as well as directives from both Federal and State Authorities, the board of directors has directed that the Annual Local Member Unit Meeting scheduled for this Friday, March 20th, be POSTPONED. Taking into account emerging issues, the board has TENTATIVELY postponed the annual meeting to FRIDAY, JUNE 12th, 2020.

The board will be holding a regular meeting in place of the annual meeting for the purpose of further deliberation, planning and response to the emerging COVID-19 crisis. Please keep current by following the MAP Facebook page, website and email announcements for further information.

Thank you and stay safe.

---

DOJ announces how benefits will be determined when officers die from Coronavirus

—

Dear Members of Law Enforcement,

Stay home. Socially distance yourself. Work remotely.

All of these are necessary advice given to all of us by our government and health leaders in an attempt to slow the spread of the COVID-19 virus. But you as a law enforcement officer likely can't take that advice.

You have to go to work to answer the calls to keep us safe. You may or may not have adequate protective equipment, and you certainly don't know who you may encounter or who may be a carrier of the virus.

But we all know if a citizen with the virus calls 911 with an emergency, you will respond. Our safety and national security depends on it.

At the time this article is being written, at least 41 police officers have died as a result of COVID-19. Unfortunately, there will likely be others. Right now the highest priority is to keep those death toll numbers as low as possible.

Please take steps to limit your exposure at work whenever possible. While reactive policing is not ideal, in times like this, it is unfortunately recommended.

As a retired officer myself, I know our communities will eventually pay the price of having reactive versus proactive policing, but the steps to keep yourself and your families safe should now take priority.

The question is being asked at the local, state, and national level whether officer deaths from COVID-19 will be considered in the line of duty for the purpose of line-of-duty death benefits.

The Department of Justice Public Safety Officers' Benefit (PSOB) program put out a release today. Quoting straight from the Bureau of Justice release:

"To establish eligibility for benefits under the PSOB Act in connection with a public safety officer's death or disability due to COVID-19, the PSOB Act and regulations require that the evidence show that it is more likely than not that the disease resulted from the public safety officer's exposure to the disease or the virus that causes the disease, SARS-CoV-2, while performing a line of duty activity or action.

In general, BJA will find that the evidence shows a public safety officer with COVID-19 contracted it in the line of duty, when:

(1) the officer had engaged in line of duty action or activity under circumstances that indicate that it was medically possible that the officer was exposed to the virus, SARS-CoV-2, while so engaged; and

(2) the officer did contract the disease, COVID-19, within a time-frame where it was medically possible to contract the disease from that exposure.

In addition, in the absence of evidence showing a different cause of death, BJA generally will find that the evidence shows a public safety officer who died while suffering from COVID-19 died as the direct and proximate result of COVID-19."

So, what can you do now if you come down with COVID-19?

First, please follow all the advice of medical professionals. This virus seems to be unpredictable as to whom it affects the most. While those who are older or have underlying health issues seem to be the most at risk for bad outcomes, there are also perfectly healthy police officers who are dying from this virus.

Don't underestimate it. If you are experiencing anxiety, please reach out to C.O.P.S. and we can put you in touch with someone for peer support.

Second, document your exposure. If you know that while you were working you came into contact with someone who was known to have the virus, document the date, time, and names of those who were there.

If your agency has a method to document exposure, you should utilize that process. If your agency does not have a process, you should document the exposure yourself and make sure your supervisors have a copy of it.

If you do not know where you contracted the disease, document the hours you were at work and were in contact with the general public during the date range when the general public was asked to stay home and exercise social distancing. Most agencies have an ability to produce call logs that will show when you responded to calls for service. This may be helpful in establishing the evidence needed for your family to qualify for benefits, if it unfortunately becomes necessary.

Third, consider making a claim through workers' compensation. The documentation you will use to document your exposure may prove valuable if a death benefit claim has to be made later. Your workers' comp claim can be updated later if you ultimately succumb to the virus.

Last, if you have not updated your personal information for your family to use to make decisions in the event of your death, now is the time to do so.

You can click on this link to access a PDF form you can fill out and then print and put in a safe place. None of your personal information is saved through the form. C.O.P.S. always recommends this information and life insurance beneficiaries are kept up to date, even during times we are not experiencing a pandemic. The peace of mind this provides to your family in the event of your death is invaluable.

At C.O.P.S. we know you do not have the luxury of social distancing. You should also know that C.O.P.S. is here as YOUR organization, committed to every law enforcement family that experiences the loss of their officer in the line of duty, due to this terrible virus. Every service available through C.O.P.S. will be available to these new families.

These are uncertain times. I personally would like to take just a minute to say thank you for what you are doing. There are many heroes during this pandemic event, and you are one of them. While I am no longer considered an "essential" worker, you most certainly are. Thank you from the bottom of my heart.

God bless and stay healthy!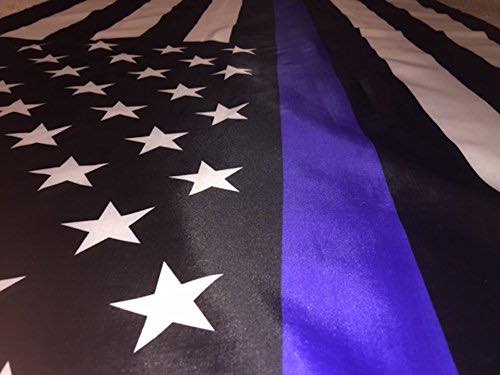 Tom Cole: Tribute to His Brother
Give the Gift of Music and
Help Support the Family of Our Fallen Brother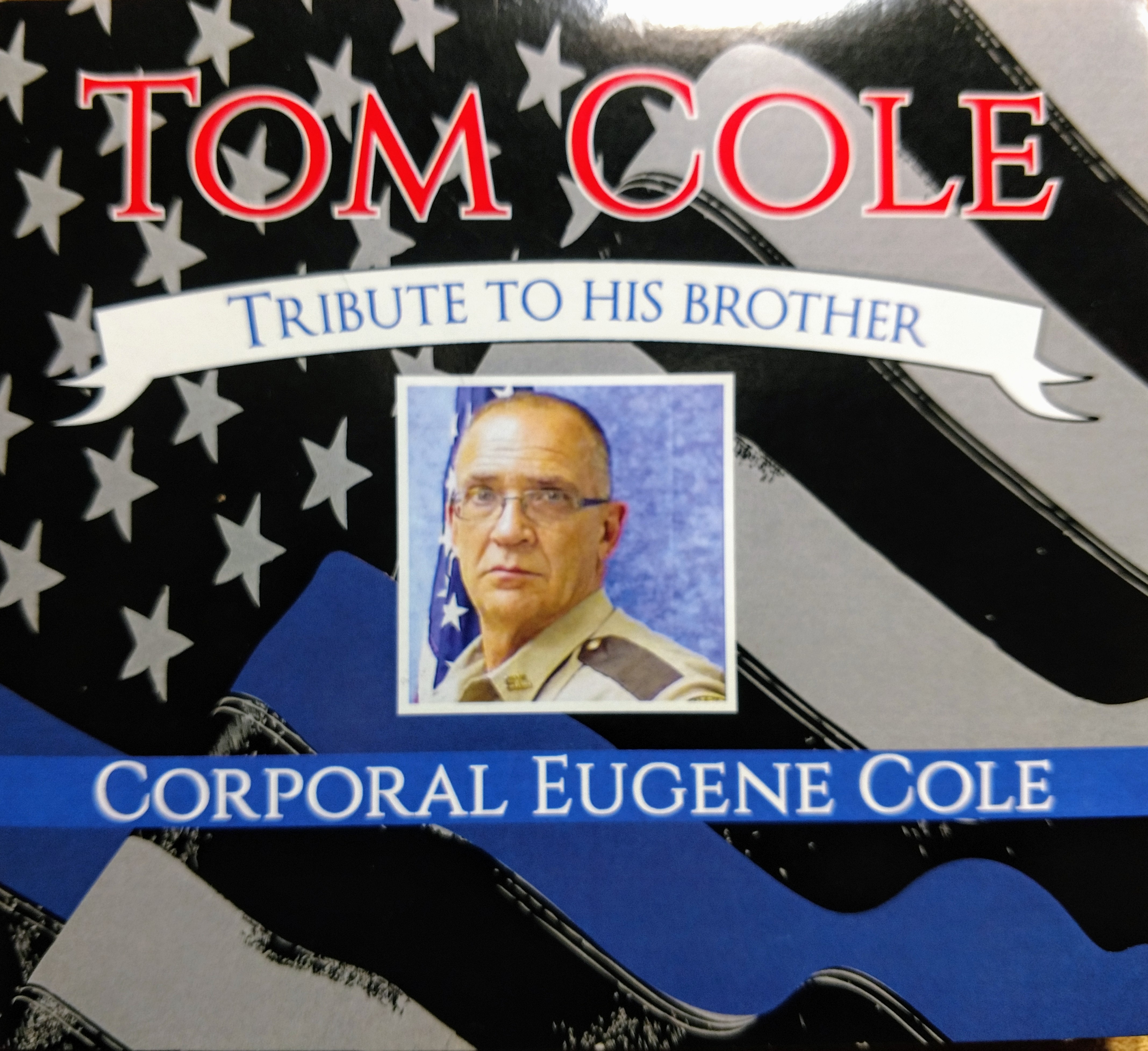 MAP is partnering with Tony Mantor of Plateau Music in Nashville to support the Blue with this tribute to Fallen Somerset County Sheriff's Corporal Eugene Cole. Corporal Cole was viciously murdered in the line of duty on April 25th, 2018 in Norridgewock.
Gene not only leaves behind his wife of 41 years and four sons and many relatives including his brother Tom but a grieving law enforcement community as well.
The MAP board and its members have been challenged to step up and support Gene and his family in their time of loss. Recently, Tony Mantor, who was born and raised in Skowhegan, brought Tom Cole and members of Gene's family down to Nashville and made it possible for them to record 5 songs written by Gene as a tribute that are now contained in the CD pictured above. The Tracks are;
1. On My Way To Nowhere
2. Room 13
In addition, Mantor brought together incredibly talented session musicians from throughout Nashville; many who played with well-known artists you listen to today on top radio charts to help in the effort. It is a testament to what Maine people are all about and a team effort in securing the memory and legacy of Gene Cole. In addition, there is a companion DVD that documents the project and efforts, as well as interviews with Mantor, musicians, members of the Cole family and of course; the making of the music.
Click HERE To Listen To "Life Without You"
Tony Mantor has held strong to his Maine roots and the automatic impulse to help his neighbors and friends. Covering the costs involved with the production, he has put together a set of both the CD and DVD; especially for MAP members and LEO's for a special price of $20.00. With our help, we can ensure that ALL PROCEEDS go to the Cole family to assist them in their needs going forward without Gene. The challenge AND the goal given to us is to rally our members and fellow LEO's throughout the state and sell 500 sets which in addition to previous sales will net the Cole family $15,000.00!
WHAT CAN YOU DO?
Quite simply, pledge to buy a CD/DVD Set, or several. Encourage or challenge your fellow members or departments to do the same. We know that we can meet this challenge and it is our hope that we will not only reach our goal of 500 sets but put in an order for more! We are doing this by asking you to PRE-ORDER and PLEDGE to purchase sets through the form below.
The DVDs are in the process of final production and the sets will be sent to MAP when they are done and combined with the CDs. This will allow us to have all sets shipped at once and as MAP will be covering the bulk shipping cost, 100% of your $20 purchase price will go to the Cole family.
HELP US SHOW WHAT MAP HAS ALWAYS BEEN ABOUT. PRE-ORDER AND PLEDGE YOUR $20.00 FOR EACH SET YOU DECIDE TO PURCHASE! HELP SPREAD THE WORD AND ENCOURAGE OTHERS TO DO THE SAME. THIS PLEDGE FORM WILL BE ON THE HOME PAGE AND OPEN TO ALL WHO WOULD LIKE TO HELP OUR CAUSE.
ON BEHALF OF THE MAP'S BOARD, TONY MANTOR AND ESPECIALLY THE COLE FAMILY, YOU HAVE OUR THANKS FOR KEEPING THE FRATERNAL CONCERN FOR OUR BLUE FAMILY.
STAY SAFE AND WATCH OUT FOR EACH OTHER
TO PRE-ORDER "TOM COLE; TRIBUTE TO HIS BROTHER"
| | | |
| --- | --- | --- |
| | Selected PSA | |
| | | |
MAP Has "Your SIX"
We are proud to invite our members and supporters to the inaugural Maine Association of Police Podcast; "YOUR SIX"! This is the culmination of a long process of planning, technical assistance and hard work to bring a new level of communication and access to our members throughout the state.
Your SIX will provide our members with topical and current issues affecting our law enforcement profession, including; legal, labor, family and all things related to our fraternal concern. We will be using both audio and video casts with a myriad of guests and topics.
We are very honored to have Randy Sutton, a national speaker, subject expert, and former Las Vegas Metro PD Lieutenant as our first guest. We will be talking about Randy's new national initiative - "The Wounded Blue" and MAP being one of the first to partner and support the effort!
YOUR SIX debuted at NOON TODAY on our Facebook page as well as our website, with the first episode open for public viewing . After this first viewing, this will become a member only accessible service for our loyal members. You can also now view our first episode using the link below.
Stay safe and we have Your SIX!
for more information about Rany Sutton & The Wounded Blue, go to;
Listen to MAP Friends and Supporters Turquoise Willie Honor First Responders
"Over the last several years we have spent time traveling around the country performing from coast to coast. During our time we have gotten to know many first responders and have to become quite close. Thanks to these friendships we have been given a glimpse into their lives and the sacrifices they make every day without question. There have been several tribute songs written throughout the years, but we wanted to take their stories and connect them into a piece of work that acts almost as a mission statement to convey the pride and camaraderie that exists in this international fraternity."
TO ALL THE MEN AND WOMEN WHO DO THE JOB;, THANK YOU!
| | | |
| --- | --- | --- |
| | Blog Topics | |
| | | |
| | | |
| | | |
| --- | --- | --- |
| | Officer.com | |
| | Connection Failure: This usually happens when the news feed URL is entered incorrectly. | |
| | | |
UnionActive Police Newswire